A view of West Lake, where you can rent boats paddled by these guys.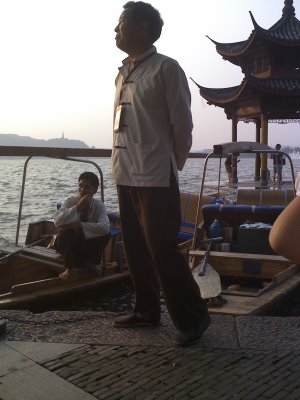 A more modern view of Hangzhou, complete with colorful graffiti.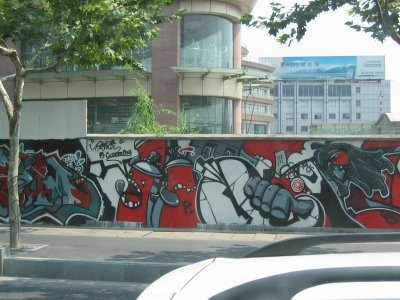 Since moving to Hangzhou we've been kind of in limbo, mostly due to the fact that we're in temporary settings until the renovation has finished for our new apartment on the other side of the building. That and not having anything required of us has left us unmoored and drifting.
Here are a few pictures from around our new digs. More to come later…
Joel at the gate of the foreign teachers' building. It's on a quiet, crumbling street called 西溪路 (Xixi Road)-a road that is surrounded by shiny new buildings housing multinational companies.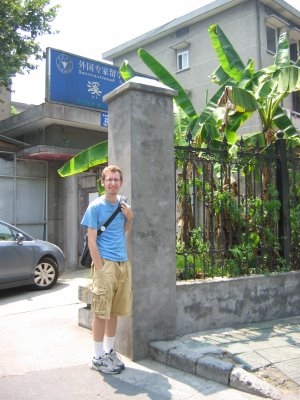 View from our window. Hangzhou is much greener than Shaoxing, a fact that I appreciate immensely. Across the street is the banana seller, who we can count on to always have bananas and laundry out.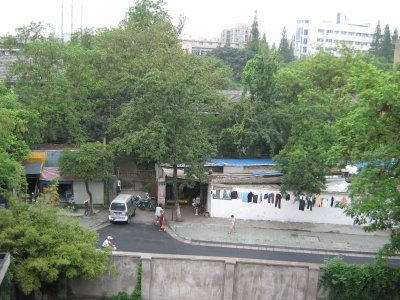 Our lovely abode, where we live with a bunch of other foreign teachers. The pile of rubble on the ground is the remains of our gutted future apartment. We're hoping they'll be done by next month. Keep your fingers crossed!