This post bought to you by Joel and the fish who lives in our bathroom (pictured below)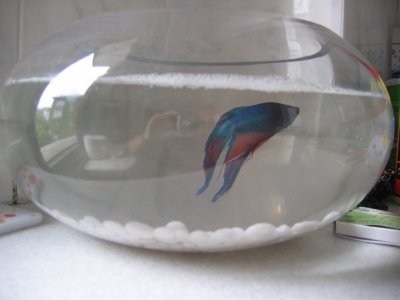 Things are going so fast here! Sarah's in her second full week of classes at the Art Academy, and I'm finishing my first month of classes at ZJU this week. Wow. We've done a lot since we've been here — ridden our bikes around a lot of the city, met some new friends, taken a boat ride on the Grand Canal, gone to a concert where we saw a crazy DJ from France, and done a lot of studying and preparing for class.
Next week is the week-long National Day holiday, and we are planning (hoping! if we can find a place to stay) to take a short trip to Suzhou*, to see the sights, and Shanghai, to take in a music festival called NO+CH (which, amazingly enough, is a joint Norweigan/Chinese festival now in its fourth year). If it all works out, you'll see a report here…
*A Chinese idiom says: "In Heaven there is paradise; on Earth there is Suzhou and Hangzhou." Since we live in one of those places, we ought to check out the other.
Here's a picture of the view from outside my office: