National Day Holiday and Joel's Birthday
posted by Sarah
We've been granted the week off due to National Day (October 1st), and instead of joining in the travelling frenzy like pretty much everybody living here, we decided it'd be best to stay put and have some local fun. After all, Hangzhou is itself a top tourist city, and we're far from discovering all its best spots.
Thanks to everyone who sent birthday wishes to Joel last week! We had a really fun day, blessed by the most beautiful fall weather imaginable. Here are the photos to prove it.
We started off the day with a leisurely late brunch buffet at the curiously named "Reggae Cafe," which, in all respects is a high class joint – except for the psychedelic posters of Bob Marley on the walls.
Joel finishes his brunch in a bit of a post-prandial daze.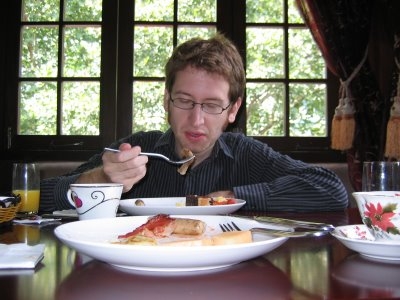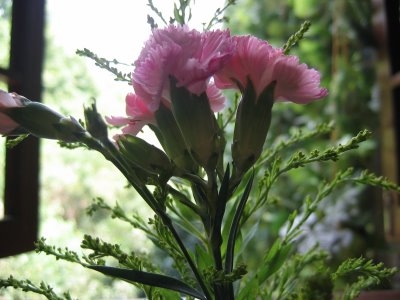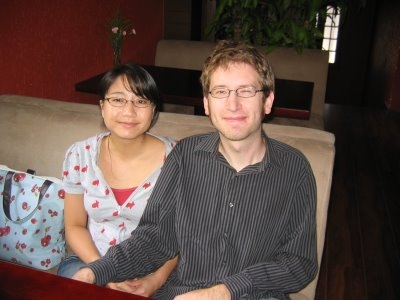 Then to West Lake – a 10 minute bike ride – where we were accosted by a group of schoolkids asking foreigners to sign their banner in support of the cause "请说普通话" – that is, "Please speak Mandarin." They're really cute (when they're not yours).
Joel getting schooled in reading Hanzi by the Chinese equivalent of the Scouts.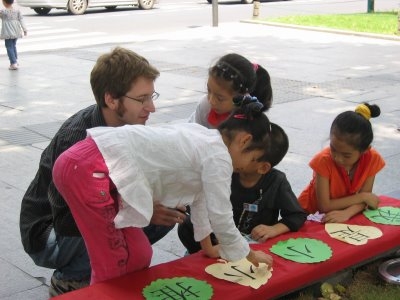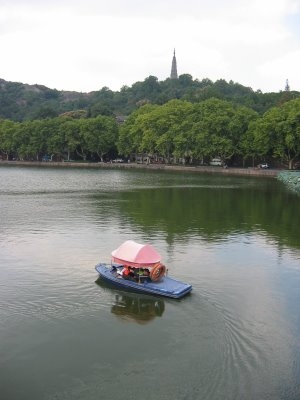 West Lake is really beautiful on a fall day – windy enough for kites, but warm and bright.
A delightful string of mini kites tracing a path towards the sky.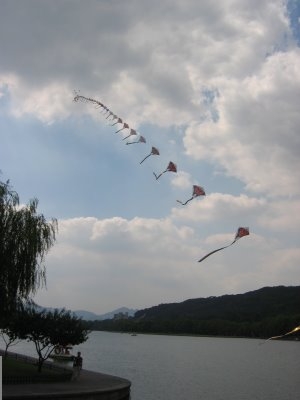 A kite decorated with a Beijing Opera style mask.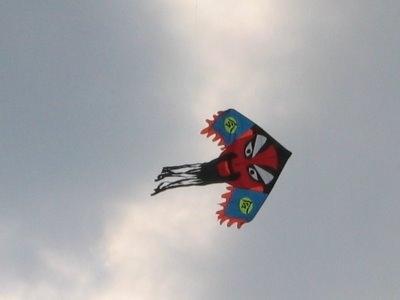 A hardcore kite flying enthusiast sporting a heavy duty reel and umbrella hat.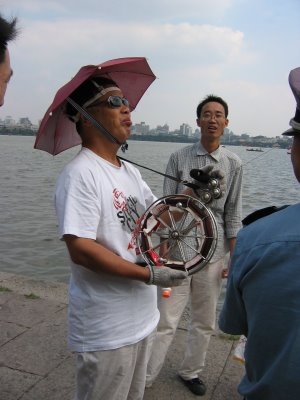 We then decided to rent a boat and spend an hour on the water. Water is very important to a healthy Chinese lifestyle – and spending lots of time around it is always a great idea in my book!
The boathouse where we rented what we thought would be a paddle boat, but turned out to be motorized. Cool!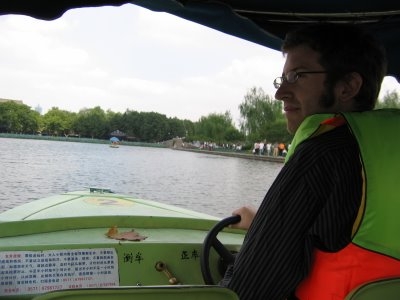 After West Lake, we visited the Foreign Language bookstore where Joel picked up Cormac McCarthy's "No Country for Old Men" and "English as a Global Language." Fortunately for you, no action shots of browsing through books document that part of the day.
Later that night we finished off the day at Peppino's, a restaurant in the Shangri-La Hotel which is reputed to have the best Italian food in the city. And it was quite good; the Caesar salad had real homemade Caesar dressing with a creamy aioli texture, the foie gras accompanied by a raisin reduction was impeccably grilled, and the wood-fired three-cheese pizza topped with bleu, goat, and mozzarella cheeses hit the pizza-shaped spot that Joel always seems to form in his stomach for his birthday. We also shared a bottle of fruity Bodega Norton Argentinian Malbec in giant Riedel glasses.
A festive centerpiece? We had to ask the waitress. Actually they're extremely long breadsticks.