posted as a joint effort
We had a hurried but fun weekend in Beijing last weekend, with only a few hitches that made the whole experience even more interesting.
We decided to go to Beijing on this particular weekend to meet up with our good friends from Eureka CA (now, coincidentally, living in Spokane), Andrew & Jess. They were coming into Beijing to volunteer at an orphanage at a nearby city (Langfang), and we got the chance to hang out with them as they spent the weekend doing touristy things around Beijing.
First of all, we missed our overnight train. Rush hour traffic in Hangzhou is a nightmare, and despite leaving our house an hour and a half early, we arrived at the train station mere minutes from the train's departure – needless to say, we weren't let through the gates. After about 10 minutes of general panicking, we pulled ourselves together (actually, Joel got a grip) and got tickets for the next train. However, the next train was less than ideal: we would be on the train from 11 am on Friday until 9 am Saturday – giving us only 1 full day in Beijing. So we decided to try and catch a flight out on Friday instead. Luckily my dad could help us out with booking some plane tickets and instead of riding a train for 22 hours we headed for Beijing by plane, which takes a mere 2 hours.
Upon arrival to the great city, we lost no time in heading to one of our topmost priority spots: 798 Art Zone. This neighborhood is the heart of China's modern art movement, and it is comprised of about 5 blocks of renovated factory spaces. We didn't have much time to explore, as it was getting dark by the time we arrived, but we did see some interesting galleries.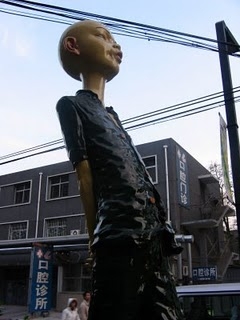 Joel headed straight to the Sugar Jar, an independent music store dealing exclusively in experimental Chinese music. The clerk, Liu Kai, turned out to be a treasure trove of good information on modern Chinese bands and promised to introduce Joel to a few of his "good friends". He was a consummate host, and served us oolong tea from a traditional tea set while playing us obscure music from the far reaches of the country.
He also recommended a great Sichuan restaurant, where we ate our first Beijing meal of beef with fresh vegetables and a sweet pumpkin dish with glutinous rice and soft sugar on top. Yum.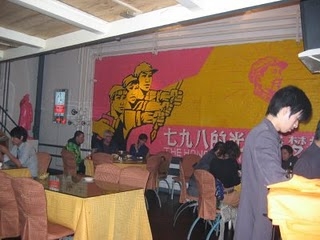 The next day we met with Jess & Andrew and toured the Temple of Heaven. It's an impressive place, where the Emperor used to pray for a successful harvest each year. (I don't think Hu Jintao prays there.)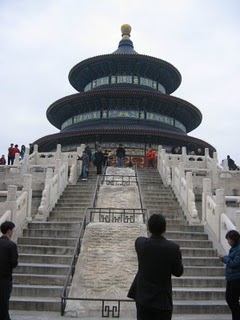 How cool to see our good friends half the world away from where we first met!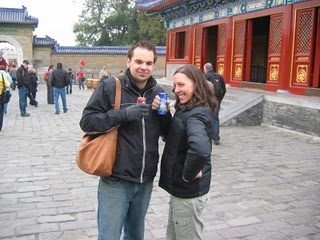 Then we went to the Pearl Market, a huge tourist trap, and bought a bunch of stuff including some silk pajamas for myself! Score! Then it was a quick jaunt to a nearby theater to watch one of Beijing's famous acrobatics shows. All the acts were impressive; perhaps the distressingly young tumblers in the finale were the most 使人敬畏的.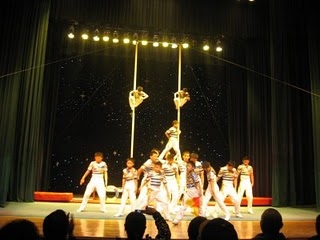 We ended up at an American-style pizza place for dinner, after which we headed to D-22, Beijing's hippest rock club, where we saw a band called 23 (pictured below playing a cover of "There is a Light That Never Goes Out" by the Smiths) and a few others.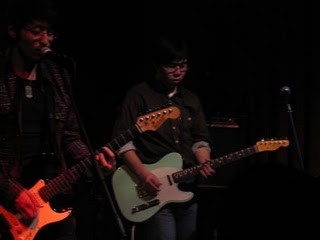 Sunday morning, after a leisurely American breakfast at the Bridge Cafe in the Wudaokou neighborhood where we were staying, we joined up with Jess & Andrew's group again, this time at the Panjiayuan Antique Market. This was a cool place, and there were more Chinese than foriegners there — always a good sign. We came away with a few knicknacks, a painting, and a book by Stephen Fry, of all things. Check out one of the stalls selling toys, below.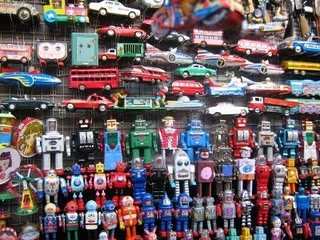 After that, we headed to Beijing's famous shopping & snack street, Wangfuijing. Despite multiple calls of "HELLO CENTIPEDE!" we managed to avoid the more exotic fare, sticking instead to fruit and chou doufu. Although Joel did have a bite of starfish.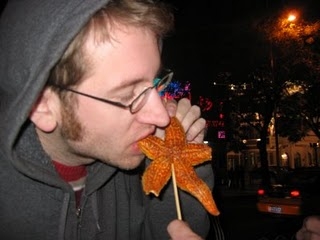 These soup dumpling with straws in solve a great problem, which is that whever you bite in to one of these things, you normally get soup all over the place. Not anymore!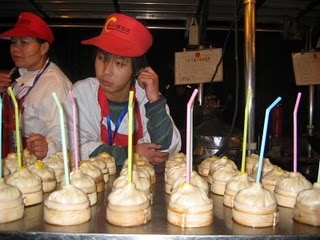 We flew out early Monday morning — so thus endeth the whirlwhind tour! We definitely need to go back to see all the stuff we missed, and revisit some of the stuff we liked.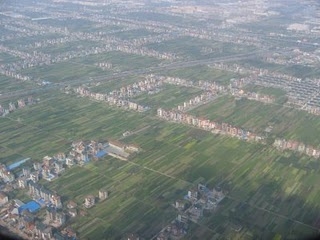 (Back to Zhejiang, from the plane)