…to cook an entire Thanksiving meal for 10 people using a toaster oven and hotplate.
Sadly, no pictures were taken to commemorate the event, save one of the apple tart (1 of 2), which will now be shown here.
apple frangipane tart featuring:
– real Washington granny smith apples!
– almond frangipane (kind of like marzipan)
– buttery crust
– served with real whipped cream!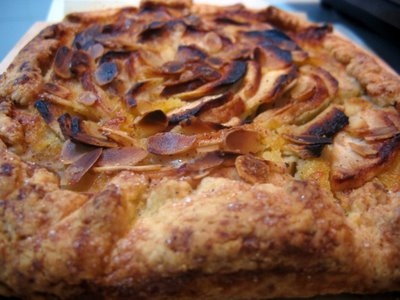 Dinner also included carved roast beef with red wine demiglace, garlic mashed potatoes, chestnut bacon stuffing, and hot mulled apple cider.
On top of what we provided, guests brought a veritable truckload of other delectable savories and sweets, including custards, cookies, apples, oranges, two footlong Subway turkey sandwiches (the only turkey eaten here), and Hangzhou's latest Western luxury, donuts.
Needless to say, I'm about to burst. Let the holidays begin!