zhu ni sheng dan kuai le!
In lieu of a Christmas tree we have this (thanks to Joel's mom for the ornaments):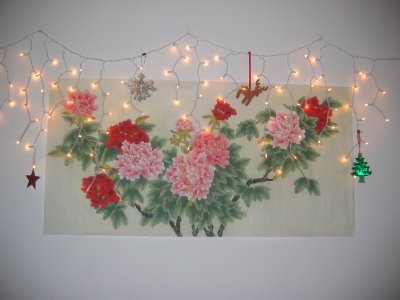 In a couple of weeks we'll be hosting our 3rd (or is it 4th? One can never remember) Annual Wine, Chocolate & Cheese Holiday Soiree; this one promises to be an interesting affair, given the "luxury" nature of all three items here in China. Our rules are as such: 1. no Chinese wine unless previously tasted by the bringer and judged to be palatable, and 2. no processed cheese slices unless forced by the direst of circumstances.