Happy 牛 Year! (a little Chinese humor)
posted by Sarah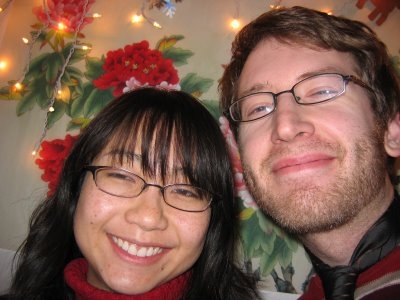 It's a bright sunny (and cold!) New Year's day here in Hangzhou, and we both have the day off, half of which we have already squandered by sleeping in. Outside it's quiet, as most people also have the day off, so normal activity is at a minimum – even our banana seller across the street is not moving bananas at such a brisk business as usual.
We had a nice Christmas last week – Joel had to teach in the afternoon but was back in time to attend our German neighbor's Christmas dinner. I made sides for the dinner: roasted rosemary new potatoes, green beans with caramelized shallots, and an apple, celery & walnut salad with a honey-dijon vinaigrette (which, surprisingly, Joel liked despite its mustardy character). Our Australian neighbor contributed a vatful of pumpkin soup, and our host served us homemade bread and orecchiette pasta in a spinach-cream sauce. Yes, it was all vegetarian (my first fully vegetarian Christmas dinner)!
We exchanged a few presents: Joel got me Tales of Beedle the Bard, The Fortune Cookie Chronicles, and Wall-E.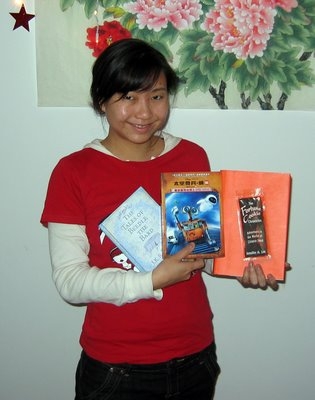 I gave Joel a tie and scarf on Christmas day, and my main present was, regrettably, late, but I eventually gave Joel his first suit (custom-made by a local tailor); I think he looks rather dashing.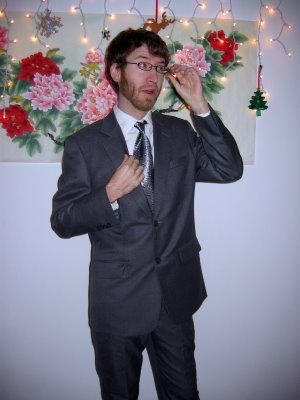 On Saturday, we hosted our annual Wine, Chocolate, & Cheese Holiday Soiree, which was a smashing success (if I do say so myself). I used part of the 5.5 lb. block of chocolate previously purchased for such an occasion to make a giant plate of chocolate-dipped mandarin orange slices.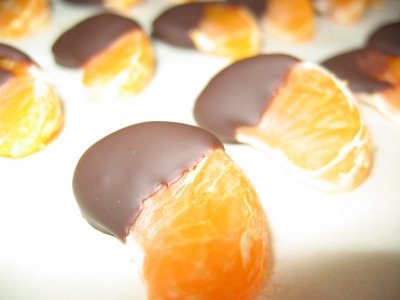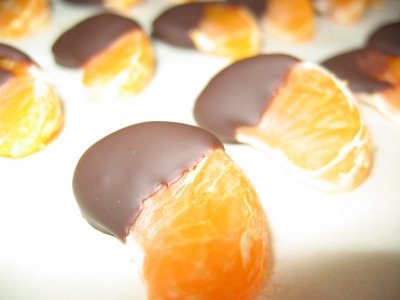 I also made a cream cheese dip (actually more of a spread, since I couldn't find sour cream to make it more viscous) featuring caramelized onions, spinach, and roasted peppers (really easy to do in a toaster oven!), and mulled wine, or as the Germans call it, "Glühwein." Our guests didn't disappoint either: only two bottles of Chinese wine (one of which was actually quite good) were brought along with several bottles of quite quaffable wine, cheesecakes, chocolate covered gingerbread, pesto and fruit were some of the offerings laid at our board.
For New Year's Eve, we didn't have anything planned – this is often the case; New Year's Eve seems to be an afterthought in the detritus of Christmas planning – so we just went to a nearby bar to ring in the new year. While waiting for the clock to strike, Joel learned how to blow smoke rings with a pretty good cuban cigar. I tried but failed miserably.
And with that, we're all caught up! Happy New Year, everybody!