Now YOU can order real Chinese food in real Chinese!
posted by Sarah
I once read on a blog that a good way to learn Chinese characters was to translate a menu. I undertook this task as an extra way to help foment my budding knowledge of Chinese, using the local restaurant in our courtyard as the basis. I did this in October, so a lot of the menu items have changed, but I still think it was a worthwhile experiment.
The chalkboard menu in the restaurant. You just order from this menu at the front, tell them where you're sitting, then wait 10-15 minutes for some great food.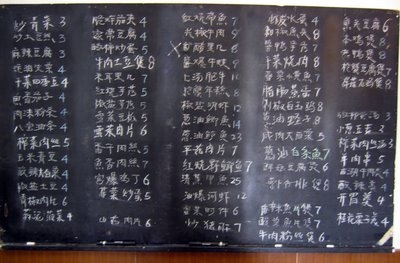 Next: my written translation. On the left are the characters (just copied from the chalkboard, so not exactly correct). The middle column is the pinyin, as best as I could make it out. I left blank spaces where I couldn't recognize/look up the character in my dictionary, then asked one of the waitresses at the restaurant to help me fill out the rest. On the right is a loose translation into English – some dishes sound extremely strange!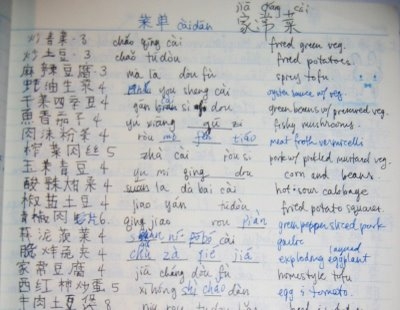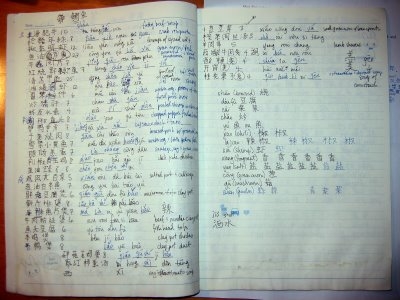 The third step was to transfer this all to an Excel spreadsheet, and then into a nice looking menu layout (I use InDesign). This step is a bit retroactive, because in order to type in chinese characters you must type in pinyin, then choose from a list of homonyms to find the correct character. Here's the final result, all prettified (click here to download the PDF):