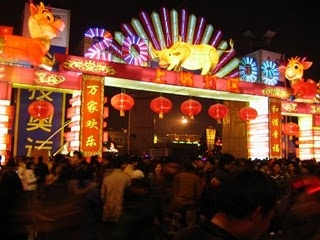 above: Wushan Square was insanely packed for the Lantern Festival, the last day of the Chinese New Year holiday. (Please don't be alarmed by the golden calf. It's the year of the cow/ox.)
Yes! It's true, Joel and Sarah still exist. You might be interested to know that today is exactly the 1.5 year anniversary of our arrival in China. Indeed, we have been living here for 18 months now, and although according to our paperwork, our residence is set to expire in about 4 1/2 more months, plans for next schoolyear are still up in the air. It's really too early to tell where we'll be come the fall, but we're really hoping to get a chance to visit friends and family this summer, so more on that as it becomes known.
I (Joel) started school last week. I'm teaching British Culture (really!) and academic writing, and also several IELTS (a test for students who want to study in English-speaking countries) speaking test preparation classes through the university's Continuing Education department. Sarah is getting ready to start up on Monday, so she has had an extra week in what we call Hibernation Mode here at the Heng Hartse homestead. It feels good to be getting back into the routine of work and school, although I already feel like I'm getting behind in my work, but I really enjoy teaching. So that's good.
In recent weeks, we haven't travelled much, but we've hosted a whole lot of guests through Couchsurfing — we've had people from Australia (biking across the world!), Spain, Taiwan, and France in the last few weeks. It's been really fun! We also recently visited the Longjing Tea Village — what a beautiful place!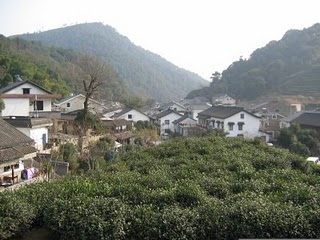 I'd retire here. Basically it's a little village in the heart of Hangzhou (really not far from the lake, but it feels a world away) where you just hang out and drink tea (Hangzhou being famous for its green tea, specfically Longjing or "Dragon Well" tea — the Dragon Well itself is in this village). We had an overpriced meal with some pretty good tea, where we met this little friend who is maybe the cutest kid I have ever seen in my life: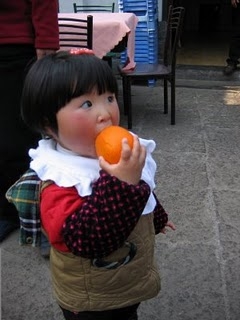 We wandered through the streets of the sleepy village, interrupted only by a constant stream of middle-aged women asking "Do you want to drink some tea? Do you want to buy some tea?" Eventually we made our way to the park where you can (of course) drink tea. We didn't see anybody using this fancy-schmancy tea table, but check it out: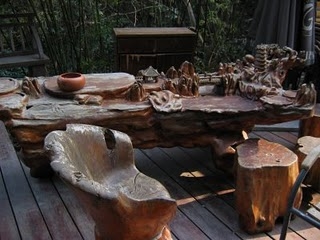 So, there's a quick update of some notable stuff we've gotten up to lately. More soon!
I'll end with a conversation I had with a little boy yesterday, and then, because you've been patient, a picture of some puppies we saw at the Longjing village.
Boy: You're a foreigner, right?
Me: Yes. [Boy's eyes widen in amazement.] You're Chinese, right?
Boy: You look like a foriegner. But I thought foreigners could only speak English.
Me: I can speak Chinese. Can you speak English?
Boy: I can't.