Joel's Parents in Shanghai!
posted by Sarah
We apologize for the lack of posts here lately; it's been a crazy busy semester for us both and we've been up to our necks in work – but also play! This past week, we had the privilege of hosting Joel's parents, Jane and Kevin, for 10 days, which turned out to be a whirlwind trip of Shanghai, Hangzhou, and Shaoxing. We got the chance to show them around our digs and also do some fun touristy things that we normally wouldn't get the chance to do.
We first met Jane & Kevin as they arrived, somewhat dazed from the 16-hour flight, at the Shanghai airport. As it was already 9 pm, we immediately went to our lodgings for the weekend, a snazzy little B&B called the Quintet in the heart of the historic French Concession.
Here are a few pics from our first installment in Shanghai:
Father & Son reunited at Quintet B&B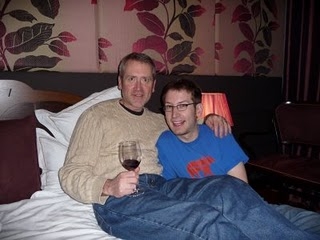 The next day, after a leisurely breakfast, we headed to the Propaganda poster museum tucked inconspicuously into a small basement space and housing a rather impressive collection of original prints spanning from the beginning of the Communist Revolution to the mid-90s. After that, we went to a cool shopping area hidden away in the narrow alleyways of Shanghai's close neighborhoods, where we stumbled upon much more tongue-in-cheek propaganda.
An example of old vs. new cultural propaganda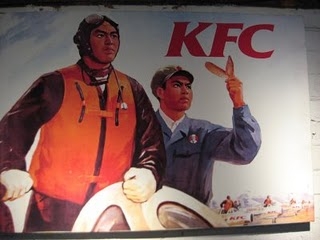 Best name for a store EVER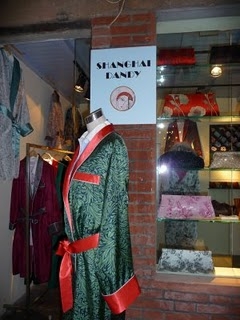 That night, we had a great meal at a restaurant recommended by the owner of the B&B.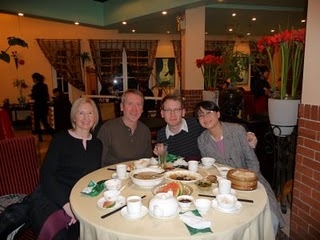 After dinner, we headed to the Bund to take a look at the lights at night. When we got there, it was curiously dark, and Joel was the first to realize that we had come on the global "Earth Hour"… luckily for us tourists, the blackout didn't last long, and were were able to see the spectacle of the Bund at night.
Kevin & Jane in front of the more historical side of the Bund
We're in front of the Bund w the Oriental Pearl Tower in the background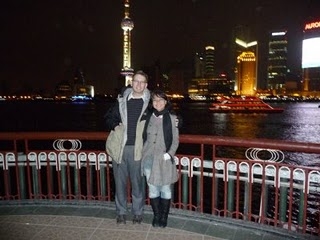 The next day was spent in People's Park, where I (Sarah) hunkered down into a Starbucks to catch up with some homework while Joel, Kevin & Jane went to the Shanghai Museum.
After that, we were on our way to the city we (and 6 million other people) call home: Hangzhou!