The Pacific Northwest: The best place on earth (+ bear sighting!)
posted by Sarah
Last week, we took a trip to
Vancouver
to scout out an apartment (which we found and want YOU to come visit us) and had some fun and diverting events along the way.
About an hour after setting off, a tire blew out on the freeway. Joel got his first "real life" opportunity to change a tire, which means he has gone one more step towards adulthood.
Along I-90. Luckily there weren't a lot of cars passing by.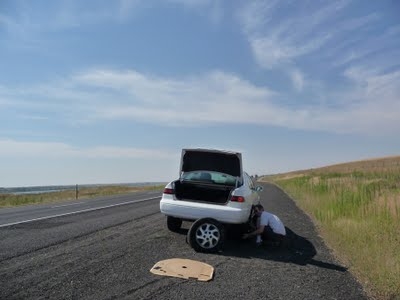 The shredded remains of the back tire. The burnt rubber actually flaked into little pieces as Joel lifted it off.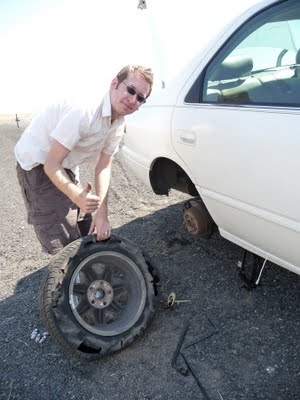 After the first mishap, the rest of our journey up north was thankfully uneventful, and we got into Vancouver in the evening to Sarah's uncle and aunt's home where we stayed
. The next day was nothing but apartment hunting, and we saw about eight apartments. Whew! We decided on a friendly one bedroom basement suite in the great neighborhood of
Kitsilano
, an area equidistant from both
UBC
to the west (where Joel will study) and downtown to the east (where Sarah will study).

We met our Couchsurfing friend (a native Canadian who now lives in Hong Kong, where we stayed with her and her husband) for lunch in our future neighborhood, Kitsilano. Small world indeed!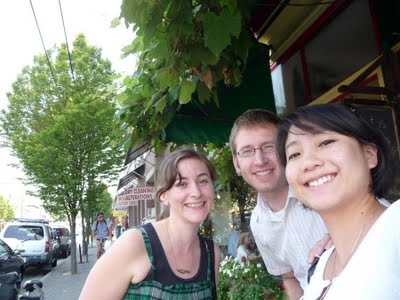 A view of downtown from the beach! We are situated on a peninsula and therefore are surrounded by water to the north, west, and south. The beach is 5-10 minutes away from our apartment.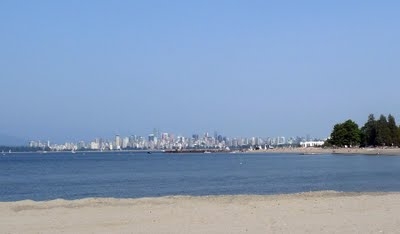 Chillin' with the seagulls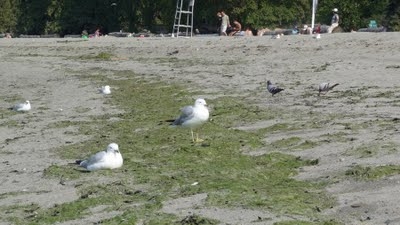 For our last morning in Vancouver, we were privileged to see a black bear ambling through the backyard, looking for some berry snacks!


A good-sized black bear ambling through the backyard… this is shot from the safety of the house, 2nd floor no less.
We headed to Seattle, where we decided to (belatedly) spend our 5th anniversary. Besides being a chilly 68-75 degrees for the majority of our visit, we still had a great time!
Joel & Sarah celebrate 5 years together at La Rustica, a great little Italian spot in West Seattle overlooking Puget Sound.
We shared an appetizer of tomato & artichoke calamari
.
Joel had filet mignon topped with gorgonzola cream.
A night
time view of the Seattle skyline – one of the many stunning views from West Seattle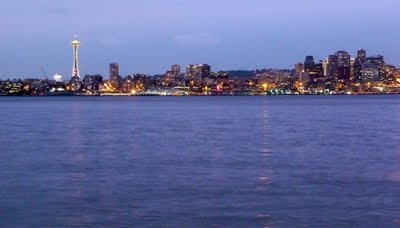 We also met up with some friends in Seattle:
Sarah & Nicole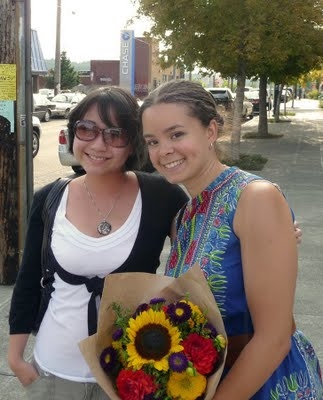 Chad & Melinda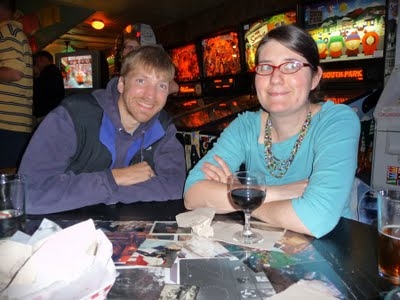 SuJ'n & a delicious taco from the Tako Truk (thanks for the great recommendation!)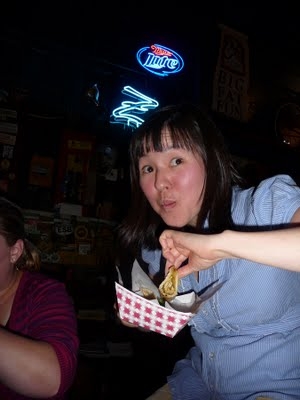 Driving back to Spokane, we stopped in Ellensburg to meet Saul for brunch at the Yellow Church Cafe.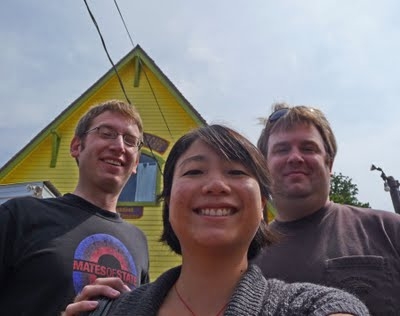 Fun times had by all! Goodnight everybody!