Floating up the Yangtze to our next destination of Chongqing was a great way to experience the changing landscape of China – from our familiar flat landscape of Zhejiang Province to the steep mountainous terrain of Chongqing. The layout of the city is so steep, actually, that bikes are a rarity (and the few that we did see were mountain bikes) – motorcycles and cars rule the road in Chongqing.
In some ways, Chongqing is like San Francisco, with its steep winding streets and foggy climate. That's pretty much where all similarity ends – Chongqing's most famous feature is its 麻辣火锅 (ma la huo guo) – meaning spicy hotpot. This hot pot combines two different kinds of peppers – Sichuan pepper and red peppers – for a unique combination that both numbs your mouth and sets it on fire. In some ways, this "麻辣" flavor represents the character of the city and its residents – fast moving and growing in size and prosperity at a blinding rate – and that's saying something for China. The complex of high rises where we stayed didn't exist three years ago.


One of the first things we ate for lunch in Chongqing: 干煸土豆丝 (gan bian tudo si) – basically a type of hash brown that was liberally sprinkled with Sichuan pepper – a total surprise to our unprepared tongues! (We've ordered this dish in other provinces where Sichuan pepper wasn't added)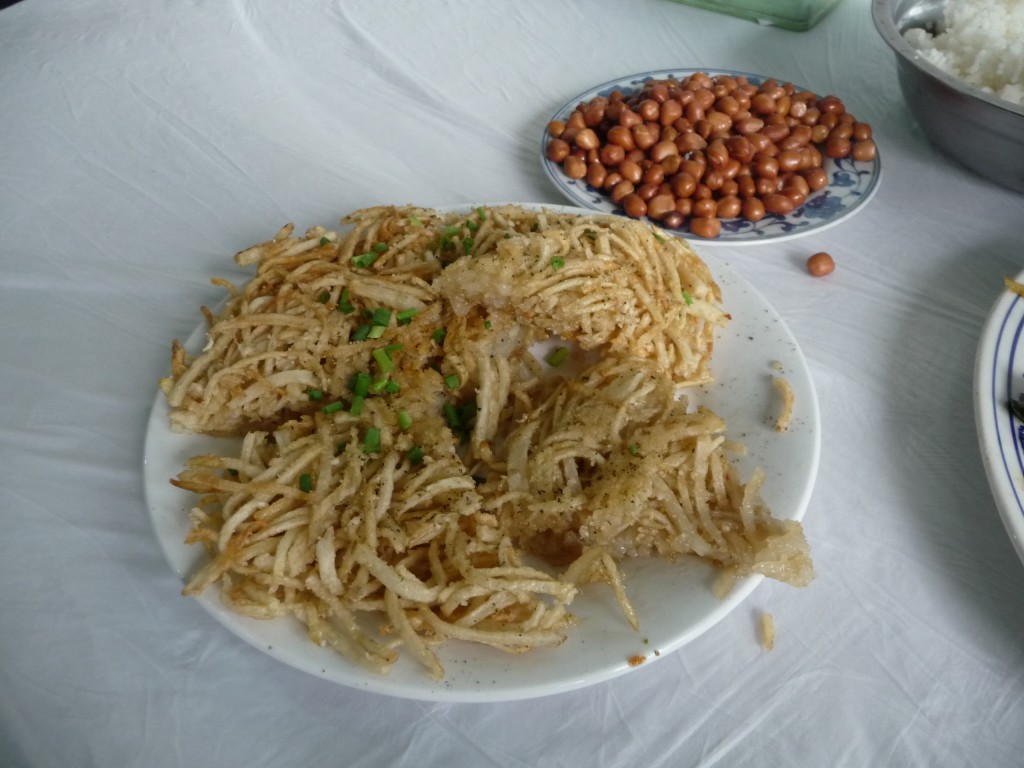 [Joel's addition]
In addition to the assault on the taste buds which Sichuan food presents, we were also surprised when, during our hotpot dinner with our Couchsurfing hosts (Ben, a native of Humboldt county, where we spent 2005-2007, and Jin, a Chongqing native), the loudest explosion any of us had ever heard rocked the restaurant so hard that the oily hotpot broth was blasted all over Ben's brand new white-t-shirt. Luckily, this carnage was the only battle damage anyone sustained — as best as we could determine, a huge truck blew a tire right as it was passing the restaurant.
[end Joel's addition]
Our explorations of Chongqing were cursory but fascinating.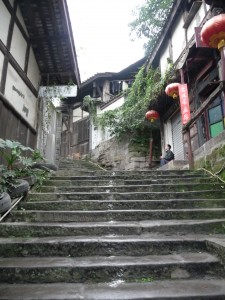 We went to visit the old quarter of the city called Ciqikou, where some streets have been preserved and vamped up for tourists. This older area had lots of little streets to poke up and down, and overall the impression was that everything is built vertically along winding alleys to give the perspective of jumbled, angular dwellings built in a sort of pleasantly chaotic manner.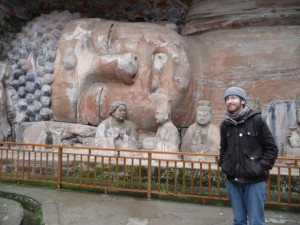 The next day we went on a Chinese tour to the Dazu rock carvings – a wholly new adventure as it was our first Chinese only speaking tour. It was both a great affirmation at how much Chinese we have learned since first coming to China in 2007, and a chilling reminder of just how much we have to go before really understanding things in any great depth. The Dazu caves are set in a very pretty area about 2 hours' drive from Chongqing, and feature amazing carvings of religious motifs on several cliff faces. These carvings date back at least 1400 years and combine Buddhist, Taoist, and Confucian beliefs.
After the Dazu rock carvings, we were sent to see a demonstration at one of the local factories that makes knives (the local manufacturing industry). We saw quite an impressive demonstration which included the presenter banging a cleaver on an aluminum pipe without any damage to the blade, cutting through leather with ease, and an electric razor that was set into a bowl of water and turned on. The price was a steal – 120 CNY for a set of three knives, kitchen shears, and a multifunction vegetable peeler (that's about $20 USD) – but we decided to forgo the tempting offer.
Later that night, we went with our Couchsurfing hosts to trivia night at a foreign run-bar ("Da Rasta" — reggae-themed, like most bars catering to foreigners, based on some strange supposition that all foreigners love reggae music and idolize Bob Marley). We arrived late and missed the first round out of five, but Joel is convinced that if we had come in time we would have swept the whole thing. As it was, we ended up coming in 3rd place out of 4.
All in all we enjoyed a great visit in Chongqing, but I personally was glad to leave the frenetic pace of this hypercity and come to Chengdu… to be continued…