The much-neglected China travelogue continues….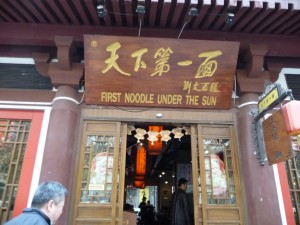 I really didn't know anything about Xi'An other than the fact that it was considered old, which by Chinese standards is really saying something. I had heard that it used to be called Chang'An, and that it was the capital of China at some point. You get used to hearing that whatever city you happen to be in was the capital of some kingdom or other, or was the center of power for some leader or political party for a few years (for example, the city we're leaving from by train at the moment, Sanmenxia, a tiny, unknown town by any standard, claims on some website or other to be 'the cradle of Chinese civilization') but Xi'An was actually the capital of China for two thousand years. I think this was the first time I actually felt I could grasp the frequently repeated fact that China has "five thousand years of history." That's a whole lotta history, ladies and gentlemen.
Our hotel was once again very conveniently located right in the middle of the city, which is surrounded by a bazillion (roughly) year old city wall. In fact, it was one of the nicest budget(ish) hotels I've stayed at in China — look up the Citadines hotel if you're ever in Xi'An.
Xi'An is known for several things, but chief amongst them are probably the famous Terra Cotta Warriors (in Chinese, known as the Bing Ma Yong, or the warriors and horses) and the vibrant Muslim culture — in the heyday of Chang'An, the city was the beginning of the Silk Road, so there is a long history of interacting with the outside world, one result of which, I suppose, would be the still active Muslim community…and Xi'An is also the site of the first recorded Christians to come to China, in the 7th century, apparently from Persia. Yes, that's right, Christian missionaries to China from what is now basically Iran.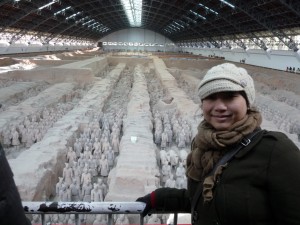 Our first night, we wandered through the area known as the Hui Min Qu (Muslim Minority District, or "Muslim Quarter" in English), which is a very active area mostly filled with restaurants and snack shops. The local fare we sampled included a hot drink made with pear juice, dates, and some other stuff (Sarah will know what it is – ask her), a dish of jellylike rice cubes covered in spicy sauce, something that was either a giant noodle or a sausage, cut into the shape of those "tornado" potato things you can get at the Richmond night market, on a stick, and the famous local soup Yang Rou Pao Mou, aka mutton and bread soup.
This is really fun. You are given a big bowl and a couple of flat, round pieces of bread, sort of like tortillas or naan. Your job is to tear the bread into little pieces by hand, which takes a while if you really do it well. You then hand the bowl, now filled with bread bits, back to the kitchen and take a number. In a few minutes, your number is called, and your bowl has been filled with a delicious soup consisiting mainly of mutton and fen si (aka 'glass noodles'). Also, and this is a very important also, you get a side dish of whole pickled garlic cloves, which were a delicious addition.
Brief gluten intolerance interlude

Unfortunately, this was the first of several days during which I succumbed to the temptation to eat food made from wheat flour, which I have been consciously avoiding for the last three years due to a gluten intolerance that manifests itself in ways having to do with improper digestion, to put it delicately. After  eating the bread, I was like, "hey, I seem to be OK so far!" and proceeded to eat wheat for the next two days. Nearly a week later, I had just barely recovered from it. Kids, don't try this at home. Or in China.
Our first full day in Xi'An was spent on a tour to the famed Terra Cotta Warriors museum. This really was amazing, but the tour we ended up on was a little weird, mostly because our English speaking tour guide, while she did indeed speak passable English, seemed not be be all that interested in talking to us for most of the tour. We did get some tidbits about the history and significance of the whole thing here and there, though. And it was just a remarkable sight to see these things you always hear about, and see on TV, or at P. F. Chang's, or what have you. They are well over two thousand years old.
As Sarah remarked to me at another museum housing brilliant artistic artifacts from this period in Chinese history, "What were your people doing then — grunting and trying to figure out how to use stone tools?"
We also did several other interesting things in Xi'An, which include:
– Eeating a ton of dumplings at a fancy restaurant while conversing almost entirely in Chinese with a friend (and Chinese teacher) I'd known from my time at Humboldt State University
– Driving around Xi'An with a Korean-American missionary/businessman
– Enjoying a light/water show at something called the "Big Goose Pagoda"
– Somehow ending up eating at a lot of Sichuan places
– Checking out the local hotspots including the 'Forest of Stelae' and the Great Mosque
More on those later — and hopefully, not three months later, this time.